2023 Motorcycle Cannonball Details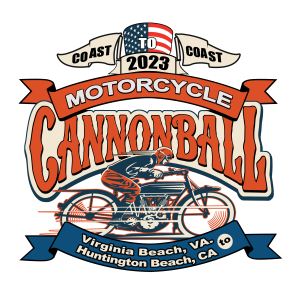 In early September 2023, one hundred or so Motorcycle Cannonball riders will start a two-week journey across the United States on motorcycles built before 1933.  The 2023 route will consist of departing Virginia Beach, VA with a grand finale in Huntington Beach, CA
The competition will involve correctly navigating the route using each day's Course Instructions. The winner for each class will be the motorcycle and its rider that covers the most on-route mileage over the 16-day run, within each day's specified time schedule and in compliance with the Event Regulations.

2023 Motorcycle and Rider Submission Form
We are now accepting submissions for the 2023 Motorcycle Cannonball; all potential riders must fill out application request below.  We will start accepting official entries and deposits starting in February of 2023.  
Note: all information and blanks must be filled out on the form below.
 



2023 Motorcycle Requirements
Motorcycle entries must have been manufactured in 1933 or earlier. Generally, any motorcycle manufactured in 1933 or earlier as originally manufactured and/or modified in its year of manufacture is eligible for entry.
Motorcycles must be and appear original in nature, period correct modifications and customizations are ok; No modern replica machines are allowed!!
Engine Cases and Transmission Cases must be original
Period correct Transmissions only: No late model 4 speed transmissions
Period Correct carburetors: Linkert, Schebler,etc; No late model carbs allowed (S&S, Mikuni, etc)
Maintain speeds of 45 mph
Required
All motorcycles must have the required equipment for lawful operation on public roads and highways in their State/Province/Country of registration.
Current state or province registration and insurance
An electrical head lamp, legally acceptable for riding at night
One working tail light, one working stop (brake) light, and one red reflector on the rear of the motorcycle
Rear-view mirrors
Fire Extinguisher
Recommended Equipment
First aid kit
Emergency flares or reflectors
Container of drinking water
Flashlight
Tool kit
Authorized Modifications
Fuel capacity may be increased.

Auxiliary tank(s) may be added provided they meet Federal and State requirements and are properly vented.
All gasoline containers must meet applicable federal safety standards.
A FUEL RANGE OF 65 TO 100 MILES IS STRONGLY RECOMMENDED. We will recommend that vehicles with a range of between 65 and 90 miles carry additional fuel on certain Stages.

Wheels and Tires

Modern wheels are acceptable but must look period correct as much as possible
Riders may use beaded type tires instead of clincher tires

Electrical charging systems including generator/alternator and battery may be added.

Modern Magnetos are allowed

Brakes

For safety brakes systems may be upgraded.
Conversion from a one-wheel brake system to a two-wheel brake system is permissible.
Disk brakes are allowed.

Speedometer/Odometer: Each competing motorcycle may have one speedometer and one odometer.

Certain electronic devices permitted with written permission
Absolutely no GPS mapping units!!
2023 Motorcycle Cannonball Classes and Handicaps
(Click links below to view handicap charts)
Motorcycle Cannonball Century Division 1923 and Earlier Handicap
Motorcycle Cannonball Ninety Year Division 1924-1933 Handicap
2023 Motorcycle Cannonball Regulations
2023 Motorcycle Cannonball Awards
(Coming Soon)