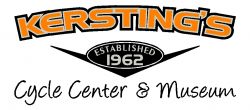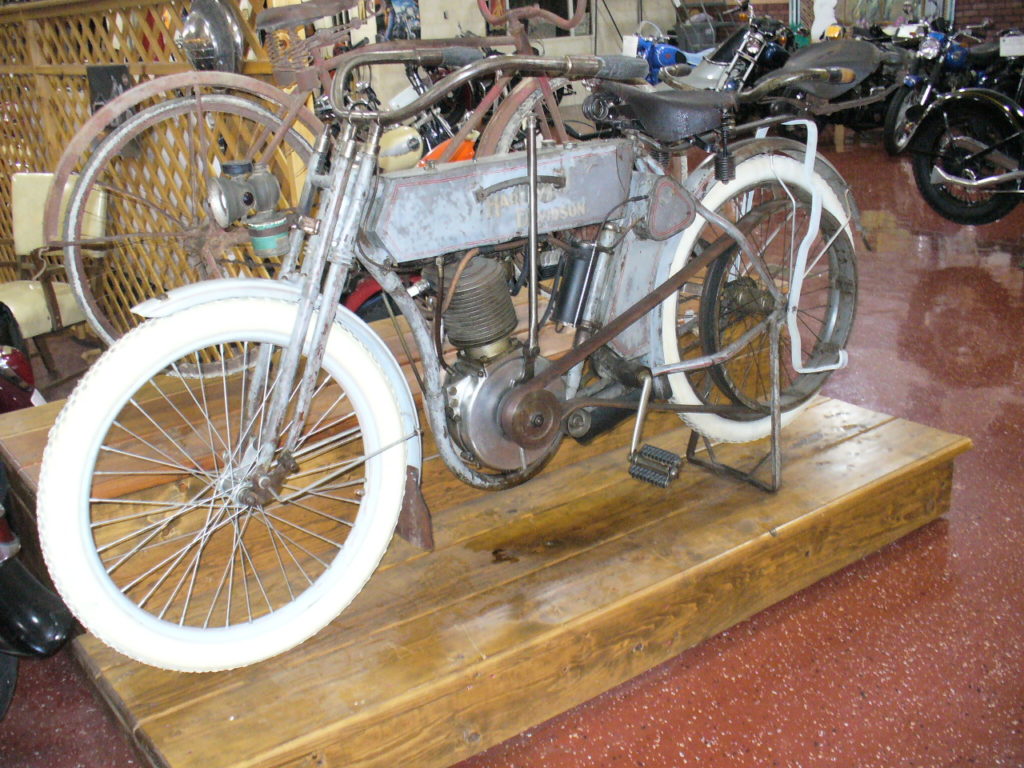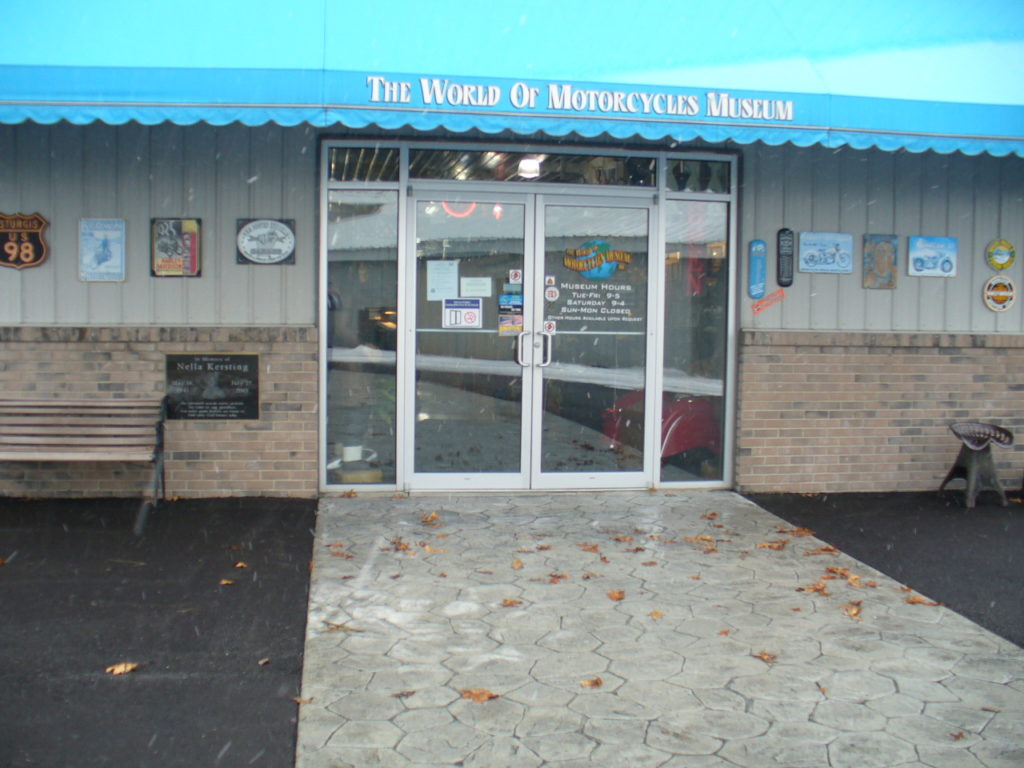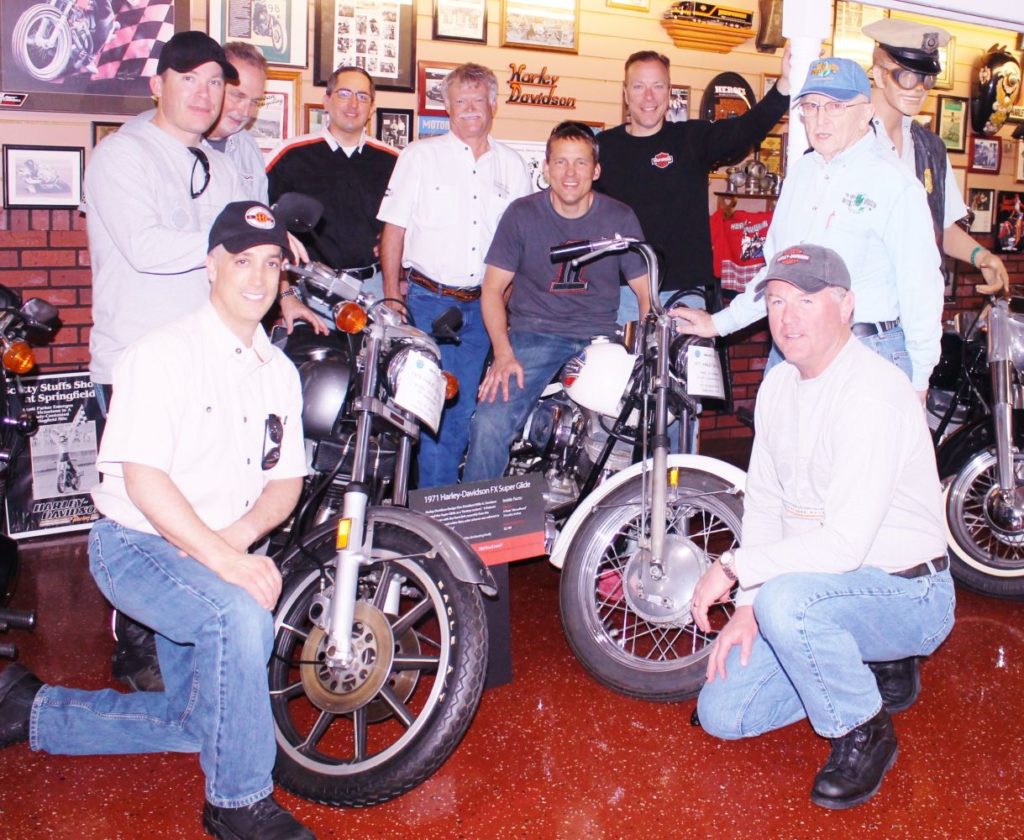 Kersting's Harley Davidson, Winamac, In
Come see the Motorcycle Cannonball riders and to get you Official Motorcycle Cannonball Merchandise on Wednesday, September 12 at Kersting's Cycle Center and Museum In Winamac, Indiana.
Kerstings is the Official Motorcycle Cannonball Lunch stop for Stage 5 of competition. Riders will start arriving at approximately 11:00 am and will be on display until approx 12:30 pm.
Kersting's Cycle Center & Museum
As is often the case with young boys, Jim Kersting was struck with the all-things-mechanical bug at an early age. One of his most memorable experiments involved the combination of a motorcycle frame, and the motor from his mother's washing machine. The results were rather spectacular, despite the fact that his mother was not yet finished with the use of her Maytag. The Simpletag is still on display at Kersting's. Unlike other children whose mechanical inclinations get put aside for other endeavors, Jim allowed his passion to grow into a blooming business.
Kersting's Cycle Center was first opened in September of 1962, and has expanded with every passing year. The current facility is situated on a forty-acre plot, and encompasses over 40,000 square feet of motorcycle nirvana. Kersting's has sold Harley-Davidson®, Kawaski® and Yamaha® for years, and is now one of the country's few select dealers to carry the Excelsior-Henderson® brand. The showrooms are loaded with shining new machines, as well as a great selection of clothing, accessories and related gear for the motorcycle enthusiast.
This mecca of motorcycling is not located in a large metropolitan area, but in a quiet section of Indiana., North Judson is within 100 miles of Chicago, but seems to be in a world of its own. Surrounded by fields of active farms, and with many neighbors of the four legged variety, Kersting's is hardly the location you'd expect for a world class museum of motorcycle collectibles.
The rustic facade of Kersting's is right at home in its rural setting, and a cigar store Indian greets you as you approach the main entrance. Once inside, you are exposed to a friendly atmosphere of yesterday and today. Being family owned and operated, you will run into a member of the Kersting clan before too long, and you'll feel like a friend soon after that.
It takes a moment to comprehend the vast array on display. With an interest in nearly all brands of two-wheeled transport, you will see machines from eight different countries that span nearly nine decades of history. American made machines are joined by those from France, Italy, Germany, as well as lesser known origins. Jim's first collector bike, a 1931 Indian 4 cylinder, was purchased in December of 1967 at a farm auction. His initial plans were to hold the American made Indian for a few years, then sell it to pay for his daughter's college tuition. When it came time to make the financial decision, his daughter Sandy drove a less than perfect car while in school, allowing Jim to hold onto his beloved Indian. The bike is still on display over 30 years later.
Unlike some collectors, Jim didn't rush into things. His second purchase would take place nearly two years after the Indian. A 1926 Harley-Davidson® BA was taken in a trade in February 1969, and was first put on sale amongst the other used machines. With no takers to be found, the VBA relegated to the collection. Having paid far less than $1,000 for the BA in 1969, it now seems to have been a stroke of genius holding on to the vintage Harley-Davidson®. It would be more than two years before the third entrant to the museum was acquired, and it too was first offered for sale. At the time, a 1916 Harley-Davidson® model J seemed to be less desirable to the used bike audience, so Jim was "stuck" with yet another relic. Little did he know that the crusty old scooter would someday become a coveted model from Harley-Davidson® past.
As the years rolled by, Jim's collection expanded. His current inventory includes an array of nearly 100 machines, many of which have all but disappeared from the everyday world. Early Japanese entrants are placed alongside classic British mounts, and the entire collection is punctuated by related hardware, clothing and display materials. Postcards denote each of the cycles on display, and additional questions are happily answered by Jim. In addition to the collection being historic, every piece of this museum has a personal history. Many of the cycles were desired by Jim in his early days, but had to wait until finances allowed their eventual purchase.
Unlike Mr. Kersting's wait to get his hands on these machines, you can visit this collection today. Located 4 miles south of North Judson, Indiana, on Hwy. 39, Kersting's Cycle Center is well worth the effort to find, and makes for a pleasant afternoon ride, except on Sunday and Mondays, when the crew takes a well deserved break from the action. Anyone interested in seeing this multi-faceted venue can call 574-896-3172 or email for additional information. There is a $5 donation per person for the museum.
Whether your interest lies in buying a new motorcycle, getting first class service on your existing ride, or simply taking a walk down memory lane, the Kersting family will make your visit seem like a journey home.
The World of Motorcycles Museum is a not for profit organization operating under Federal 501C3 status.
Visit Our Website